Meeting Essential Needs with Dignity
MEND is an interfaith network of 20 member food pantries located throughout Essex County, NJ. Our hunger relief network, the largest in Essex County, has been providing food to individuals and families in need since 1980.
MEND is a 501(c)(3) non-profit corporation that strengthens and supports its food pantry network by providing supplemental food, funds, volunteers, and a monthly forum for collaboration. MEND also advocates for policies to improve the quality of life for those in need in the County.
Member pantries benefit from MEND's economies of scale and support, while retaining their independence.
MEND Fact Sheet
How it Works
Infrastructure and Support
MEND provides infrastructure and financial support along with food sourcing and distribution so its pantries can serve their clients. Houses of worship, foundations, community organizations, and individuals donate food that MEND then collects and distributes among its member pantries.
Grants and Partnerships
MEND applies for grants that benefit its pantries. It cultivates corporations, foundations, and service organizations as donors as well as working relationships with government agencies and officials.
Increasing Public Awareness
Through its food drives, fundraisers, hunger walks and other special events, newsletters, website, and social media, MEND's goal is to ensure that the larger community is aware of the plight of the thousands of people in Essex County who do not have enough food.
Executive Director
Robin Peacock
Executive Director
Robin joins MEND as its new Executive Director, after previously working as MEND's Grants & Special Projects Consultant for two years. Robin has a long history of community engagement and leadership, having served as a Board member and volunteer for several non-profits in Essex County.  Before joining the nonprofit sector, Robin worked for nearly 15 years as a tax attorney for the IRS Office of Chief Counsel and Deloitte Tax LLP.
Board of Trustees

Jamie Anthony, Jr.
Chairman
Capital Asset Finance Professional (1966-2013)

Kate Cahill
Treasurer
Financial Services Executive (1977-2010), and Pantry Manager, Our Lady of Sorrows Church

A. Jabbar Abdi
Trustee
Managing Partner, Sidereal Capital

Benjamin Eyler
Trustee
Marketing and Communications Consultant

Karen Hartshorn Hilton
Trustee
South Orange Village Trustee and Non-Profit Consultant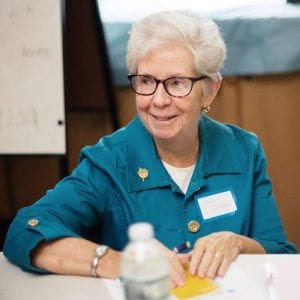 Sister Linda Klaiss
Trustee
Pastoral Associate/Religious Education Coordinator, St. Benedict's Prep, and Pantry Manager, Pierre Toussaint Food Pantry

Reverend Doris Peterson
Trustee
Pastor and Pantry Manager, Elizabeth Avenue Presbyterian Church

Claire Sinclair
Trustee
Teacher, Tuscan Elementary School
Trustees Emeritus
Helen Brooks
Garrett Gray
Mary Trinity
Tabatha Perez – Apostles' House, Newark

Helen Brooks – Blessed Sacrament Church, Newark

Don Cornell – Bloomfield Church on-the Green, Bloomfield

Alison Bryant – Church Women United Food Pantry, Irvington

Pastor Doris Peterson – Elizabeth Avenue Presbyterian, Newark

Gwen Johnson – First Hopewell Baptist Church, Newark

Renee Scott – First Seventh Day Adventist Church, Montclair

Alicia Harrison – Glen Ridge Congregational Church, Glen Ridge

Cynthia Cumming – Holy Trinity Episcopal Church, West Orange

Barbara Griffa – Holy Trinity Lutheran Church, East Orange

Diane Stein – Interfaith Food Pantry of the Oranges, Orange

Latoya Anderson – Isaiah House, East Orange

Dorothy Wetzel – Morrow Memorial Methodist Church, Maplewood

Agnes Bess – New Hope Baptist Church of East Orange

Tina Scheid – Notre Dame Church, North Caldwell

Kate Cahill – Our Lady of Sorrows Church, South Orange

Anna Hooper – Parish of the Transfiguration, Newark

Sr. Linda Klaiss – Pierre Toussaint Food Pantry St. Mary's Church, Newark

Jamie Anthony – Prospect Presbyterian Church, Maplewood

Sharon Reeves – Roseville Presbyterian Church

Zhan La'quer-Douglas – St. James Social Services St. James A.M.E. Church, Newark

Beverly Mozone – St. Joseph's Church, Maplewood

Yahaira Rodriquez – United Community Corporation, Newark
MEND provides a forum for information-sharing, support, and community building among its pantries. Every month, member pantries gather to identify common issues and concerns, address service obstacles, and share strategies and best practices for providing assistance and advocating for change.